HEALTHY SKIN POWERED BY KINKELIBA
We are on a mission to help you experience the healing power of Senegalese Kinkeliba and the beauty of African rituals.
Senegalese tea culture is an important part of the country's social fabric. Kinkeliba, a type of herbal tea, is a popular beverage among the Senegalese people. It is known for its health benefits, such as aiding digestion and boosting the immune system. In addition to its medicinal properties, kinkeliba improves skin health and promotes a youthful appearance.
Featured collection
Regular price

Sale price

$36.00 USD

Unit price

per

Regular price

Sale price

$36.00 USD

Unit price

per

Regular price

Sale price

$45.00 USD

Unit price

per
WHAT IS KINKELIBA?
HEALING BENEFITS

Kinkeliba is an antioxidant-rich plant that has long been used in traditional African medicine as a natural remedy.

Kinkeliba has been used for centuries to naturally treat wounds and infections
It's powerful antioxidant properties have shown to effectively treat diabetes, high blood pressure, heart disease, infections, and more.
SKINCARE BENEFITS

Kinkeliba's potency lies in its combination of vitamins, minerals, and antioxidants.

Its high vitamin A content helps reduce wrinkles by promoting collagen production and skin cell turnover
Its anti-inflammatory properties help to soothe inflamed skin caused by acne, eczema, and other conditions
Zinc helps to reduce oiliness and regulate sebum production
Its antioxidant-rich nature helps protect the skin from free radical damage
The combination of vitamins C and E in kinkeliba work together to help even out the skin tone.
SUSTAINABILITY

We source only the best ingredients from our beautiful homeland - working ethically and sustainably with small-holder farmers for our kinkeliba.
We also work with fair-trade vendors that support the development of the communities and families in northern Ghana that produce our raw shea and mango butters, and different oils.
SOCIAL IMPACT

We are a small business with big dreams of making a difference in the lives and communities of the women who make our raw ingredients.

By carefully selecting partners who are fair-trade certified, we can ensure that every order has a direct impact on women & their families in Ghana and Senegal.
We are proud to support initiatives that empower economic, social, and environmental efforts.
Vegan

Our entire kinkeliba collection is vegan

100% Natural

We only use natural ingredients sourced from Africa

Eco- Friendly

Our packaging is recyclable and our packing peanuts are biodegradable

Cruelty-Free

We don't test any of our products on animals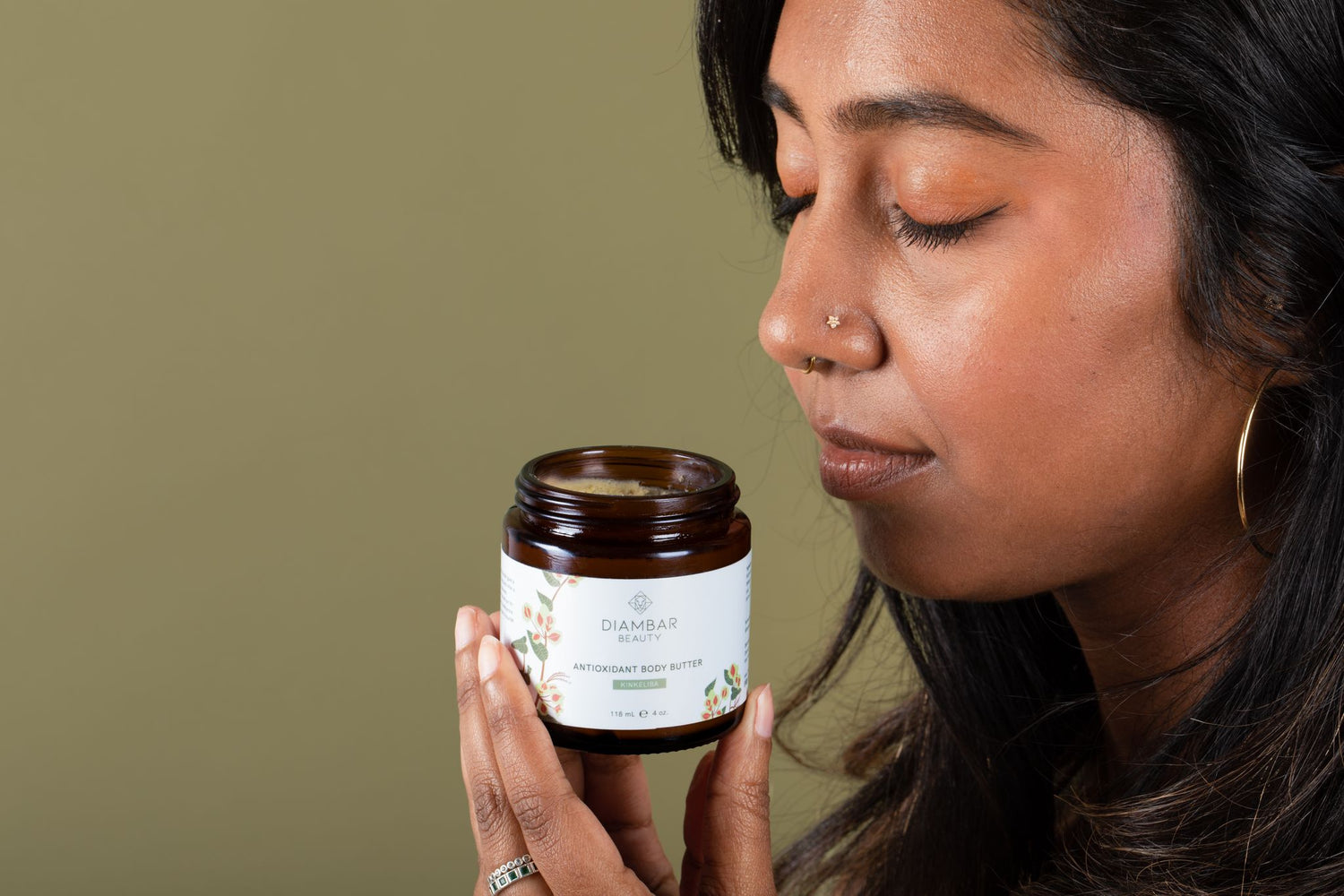 AN ODE TO OUR WEST AFRICAN HERITAGE
We believe that beauty comes from within - it is a reflection of our souls. We strive to create natural skincare products that respect our environment and honor our ancestral heritage. Our goal is to help you cultivate a mindful lifestyle through self-
care rituals and natural remedies that soothe your body, mind, and soul.
SHOP THE KINKELIBA COLLECTION
WE ARE ROOTED IN TERANGA
The Senegalese concept of Teranga is often described as "hospitality" but it is truly a way of life. It is the spirit of sharing, oneness, and community.